I blogged recently about how excited I was to be included in the
tenmoregirls collective
exhibition this year. Tenmoregirls are a Sydney based group of ten female contemporary jewellers who all studied
Jewellery at the Design Centre Enmore
. Since 2008, they have been producing annual exhibitions of stunning concept based objects and wearables. Each year, a different theme is chosen. For 2011, each of the artists randomly selected a different colour to inspire their work. The show will be called 'Ten Girls. Ten Colours.'
I have selected the colour Yellow.
Yellow. At first, I felt a little apprehensive about this. I surely would feel more comfortable exploring black, red or white. These are the shades that usually resonate in my work. Exhibition work though, is about pushing yourself to think differently. For me, concept based work is also an opportunity to disregard all of those constraints that usually inform my production jewellery. It doesn't have to be pleasurable, marketable, wearable, fashionable or even liked by your audience. Your work, in a gallery setting, can say whatever you want it to. How exciting is that?!
Yellow. Instantly I imagine gardens of flowers, bees, sunlight, corn fields and summer. BORING. In some ways it is easier to design pleasurable things. This is imagery that has become an aesthetic cliché for happiness. This is nice, but honestly, I could make lovely pretty happy things anytime. In a gallery, I like to challenge people and make them feel something they wouldn't ordinarily feel. Make them think a little or experience some discomfort.
So, yellow.... Sickness, jaundice, decay. Yellow is the colour that our skin, teeth and nails turn when we grow old. It is the colour of our bones as we decay. It is also the mark of age on the domestic objects we keep. Books, fabric, clothing and paper all turn yellow as they deteriorate. Yellow is actually a verb. To 'yellow' is to show the patina of age. This is a more productive thought train! The objects we own and treasure all decay in the same way our bodies do.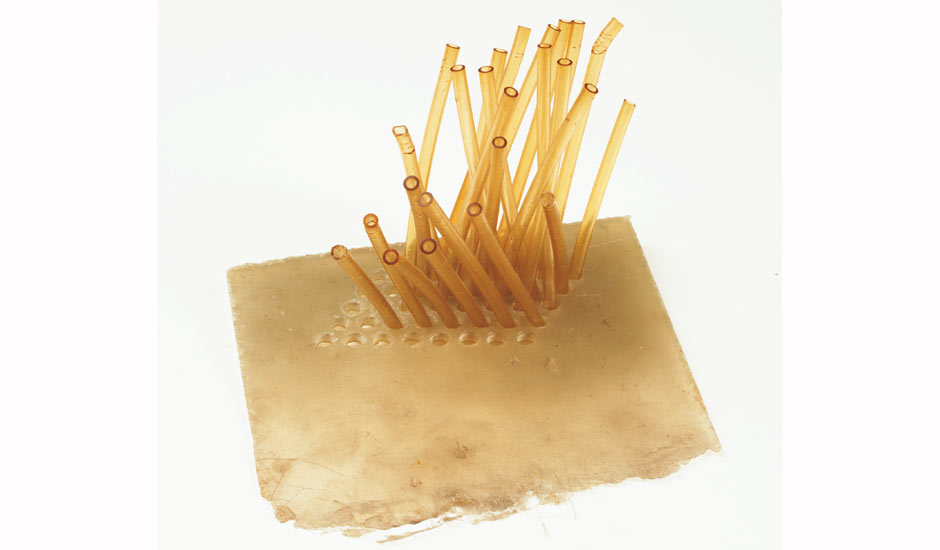 I then start thinking about the work of one of my favourite artists, Eva Hesse. Her sculptures reference the body and its functions in a very abstract but visceral way. She uses tactile materials like latex, string, cheesecloth, resin, rope and fibreglass to construct objects that are sensual but disquieting and are often, very yellow.
What do I find successful in Hesse's work? Is it material or form that I am drawn to? And how will this influence my work?
This is Part 1 of a series of posts about my concept development and creation of work for Ten Girls. Ten Colours. a tenmoregirls exhibition. I will be posting updates, photographs and images of the progression of my work as well as the planning of the event itself.
Image:
Eva Hesse Studiowork, 1968, Courtesy of University of California, Berkeley Art Museum & Pacific Film Archive, gift of Helen Hesse Charash, 1979 Photograph by Abby Robinson, Photograph: Abby Robinson/Courtesy of the Fruitmarket Gallery, Edinburgh
http://www.guardian.co.uk/artanddesign